A little bit of exciting news – I'll be joining up with my friend and former "news rival " Harry Gration for two on stage shows where we chat about our careers and with friends, The Yorkshire Vet, Julian Norton and the original team behind All Creatures Great and Small – the iconic TV series.  There'll also be some amazing music – join us in Scarborough on March 19th and York on April 11th – more details here! 👇👇👇 (Also a chance to chat to us both and the guests afterwards over cheese and wine!) Hope you can join us.
TICKET DETAILS 👇
https://www.scarboroughspa.co.uk/a-grand-yorkshire-night-out-with-harry-gration
https://tickets.yorktheatreroyal.co.uk/en-GB/events/a%20grand%20yorkshire%20night%20out/2022-4-11_19.30/main%20house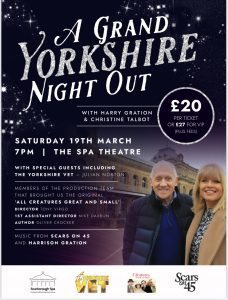 IN THE NEWS!
https://www.yorkpress.co.uk/news/19887106.harrys-grand-yorkshire-night-rival-christine/ https://www.thescarboroughnews.co.uk/whats-on/arts-and-entertainment/two-favourite-presenters-from-our-regions-tv-news-programmes-harry-gration-and-christine-talbot-present-a-grand-yorkshire-night-out-at-scarborough-spa-3542045 https://www.wakefieldexpress.co.uk/topic/harry-gration